Lux living in Seremban
---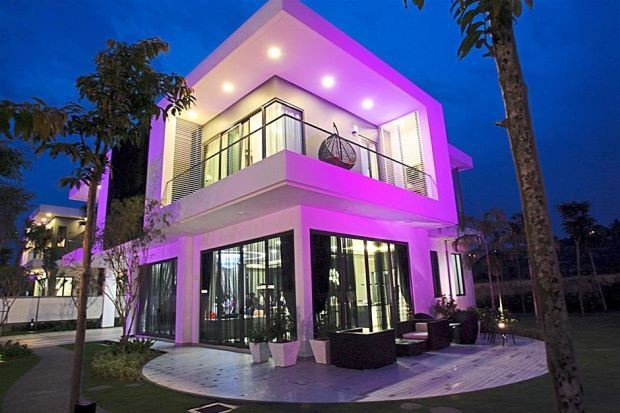 KUALA LUMPUR, OCT 18:
PROPERTY developer IJM Bhd recently launched the 76-unit Saujana Duta Phase II project in its sprawling 1,520ha development in Seremban 2.

The double-storey bungalows built in a low-density estate are situated some 120m above sea level.

IJM Land senior general manager Hoo Kim See said each bungalow sits on plots ranging from 6,400sq ft to 13,000sq ft and offers built up areas of between 5,000 sq ft and 6,500 sq ft.

The units, which come with 10ft tall main entrances, large and abundant glass panels, premium finishes and lavish fittings, start from RM2.5mil.

"The units are being quickly snapped up, with 15 of the 30 in Parcel 1 already taken before the soft launch.

"These units are specially designed and one cannot find similar types in Seremban," he said, adding that the units came in six different designs.

Hoo said the layouts of the units are designed to offer occupants a spacious and a relaxed environment.

"In addition, the layout emphaises seamless integration between the indoors and outdoors," he said.

These units are come with other cutting-edge features such as a home automation system, solar water heating system for shower areas and kitchen, and are fibre optic broadband ready, making them some of the most modern, innovative and future-ready homes around.

"Even the fittings in the bathrooms are lavish, with granite vanity tops and glass shower cubicles.

"There are also plenty of green features incoprorated into the units such as rainwater harvesting systems, solar panels and tinted glass," he said.

Hoo also described the development's clubhouse called the Hilltop Recreational Villa as an "architectural masterpiece".

"It sits on the edge of the hill and gives the residents a splendid view of Seremban as well as the surrounding hills.

"There is an infinity lap pool, gymnasium, function rooms, lookout points and lounge areas which certainly gives a feeling of exclusivity to residents," he said.

Within the enclave, there are three specially designed gardens - Sunrise Green, Sunset Green and Wellness Garden - and a 1.7km jogging path.

The east-facing Sunrise Garden, he said, allows residents to bask in the rising sun while the Sunset Garden on the other side, gives them a marvellous viewat sunset.

Hoo said the residents will also be able to enjoy the facilities at the 12ha Hill Park which was a short walk away.

"The infrastrucutere here is second to none. These have all been designed to for the security and convenience of the residents," he said.

The nighbourhood is also is equipped with a multi-tiered security system with a single entry and exit point.

"The entry points and the perimeter fencing are also monitored by a CCTV system and a round-the-clock security patrol.

"All units also have their own fencing, CCTV, alarm and panic buttons in all bedrooms," he added.

"Seremban has now become something like a district of Kuala Lumpur. People are moving here in droves as landed property is becoming scarce in the Klang Valley and also because what we offer is just as good as what you get in KL," he said.

He said Seremban 2, which has become one of more sought after addresses to live in, was an integrated township with several government departments, schools and businesses having moved here.

"In fact, we are very close to KLIA and KLIA2 and have an excellent road network with several highways connecting us with the Klang Valley as other cities and towns," he added.

IJM launched the first phase of the Saujana Duta project, comprising 116 three-storey semi-detached units in May last year.

The launch was a resounding success with almost all the units snapped up within a short period.
---
Source: The Star Online