PR1MA gets down to work
---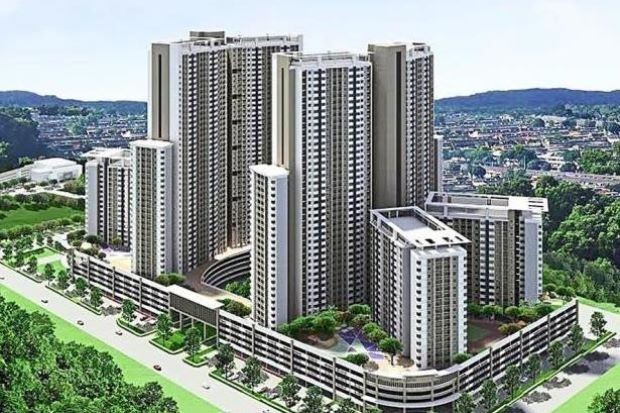 KUALA LUMPUR, OCT 18:
PERBADANAN PR1MA Malaysia, tasked with undertaking the 1Malaysia Housing Programme to build affordable housing schemes for middle-income Malaysians, is getting on with its responsibility with 90,461 housing units approved for development across the country.

Established under the Perumahan Rakyat 1Malaysia Act 2012, it has a panel of Members of Corporation (MOC) to oversee the operations of PR1MA in the performance of its functions and powers. They comprise of Tan Sri Jamaludin Jarjis, Datuk Abdul Mutalib Alias, Tan Sri Dr Ali Hamsa, Tan Sri Dr Mohd Irwan Serigar Abdullah, Datuk Azlin Alias, Datuk Sri Mohammed Shazalli Ramly, Tengku Datuk Zafrul Tengku Abdul Aziz and Datuk Seri Abdul Wahab Maskan.

According to PR1MA chief executive officer Datuk Abdul Mutalib, PR1MA is the sole authority empowered to plan, develop, construct and maintain affordable housing and townships under the 1Malaysia Housing Programme.

"Our mandate is to build 500,000 units of PR1MA homes. Close to 40,000 units would have started construction or will start construction by end-2014. A cumulative total of 160,000 units will be approved by PR1MA's MOC for 2013 and 2014," he tells StarBizWeek.

Under Budget 2015, RM1.3bil has been allocated for PR1MA to build 80,000 homes, with the qualifying monthly household income ceiling raised to RM10,000 from RM8,000 previously.

The PR1MA projects will be built in all the states nationwide, and for the Klang Valley, the approved projects are located in Cheras, Brickfields, Bukit Jalil, Bukit Bintang, Setapak, Sepang, Kajang and Ampang Jaya.

Abdul Mutalib says the PR1MA projects that have commenced construction are in Kuala Lumpur, Johor, Melaka, Negeri Sembilan, Kedah and Perak. The developments comprise landed properties, high-rise apartments and mixed developments.

"The development offerings will vary; from studio units to 3-bedroom units to suit the needs of our customer profile.

"We also hope to offer "Grow Homes" or "Rumah Ibu", a type of home that is meant for the various groups of middle-income earners including singles, young couples and single parents, who will appreciate the flexibility of having the infrastructure to grow their house bigger. This type of homes however, are restricted to areas where land is cheap," Abdul Mutalib explains.

Explaining the PR1MA development concept, he says the housing projects will be aesthetically pleasing, in a community where the amenities and facilities are thoughtfully planned.

The projects will be secure to ensure the safety of all PR1MA residents, and areas where they can come together socially through recreational spaces, amenities and facilities will be provided.

PR1MA townships will include verdant gardens, play grounds, surau and day-care centres as standard features.

To meet PR1MA's objective of playing the catalytic role of providing affordable housing for the middle-income group, he says the key focus will be to undertake demand analysis to identify the need for the PR1MA homes in order to monitor and manage the quality, supply and demand situation; supervise, plan and execute the design, construction, maintenance and operations of the PR1MA homes and communities; building the brand of PR1MA homes by setting and enforcing the standards for the developments; set the selling prices and allocate PR1MA homes to eligible buyers as well as offer buyer financing assistance programmes; and drive the public-private partnerships to accelerate the delivery of the mandate.

PR1MA is working closely with private developers, local authorities and partners, to expedite the standard operating procedures and processes in the least time possible.

It is also exploring collaboration possibilities on Industrialised Housing Technology with other building technology providers from Japan, Australia, UK, US and China to expedite the building process.

Public-private collaboration

Abdul Mutalib says given the scale of development that PR1MA has to undertake and deliver, it needs ample land to build the houses but so far, the lands that have been received from the Federal Government are rather minimal.

"As such we also need to look to the state governments to source for the required land as they can be obtained at a lower cost.

"We also work with government linked companies, private developers and cooperatives in identifying land which are suitable for PR1MA developments. We encourage the relevant parties to collaborate with PR1MA to build the houses," Abdul Mutalib says.

PR1MA also works with other developers to build developments that are designed to meet social, environmental and economic sustainability objectives, where people want to live, work and play, in thriving and safe communities which are actively engaged.

He says registration for the specific PR1MA developments nationwide will soon be opened through the newspapers and PR1MA's website.

"We will continue to open for registration more PR1MA developments as and when they are ready, and subsequently do ballotings for these developments. Todate, PR1MA@Seremban Sentral has been opened for application. The balloting for this development will be organised soon," he says.

Explaining the building process, he says before the house can be delivered to the buyer, there are many processes that must be followed such as proper research, planning, approval of the board, approval of the land development application, the local authority and other approvals that are needed to be obtained before construction begins.

Construction will take approximately 24 months for landed property and 36 months for high-rise developments.

To be eligible for a PR1MA Home, applicants must meet several key criteria. Applicants need to be a Malaysian citizen aged 21 years and above, with preference given to residents in the area where the PR1MA development would be built. Applicants should not own more than one property in Malaysia.

They should also have an individual or combined gross household income of between RM2,500 and RM10,000 a month to qualify.

The income band has just been expanded from a ceiling of RM7,500 previously, to RM10,000.

This is in line with the National Household Income (HHI) survey data which has shown that the average HHI has been rising the past few years with a significant increase in urban areas such as Kuala Lumpur, Putrajaya and Selangor.

Rising in tandem is the average value of properties in these areas which have been on an upward trend.

Statistics show that the average property value in Kuala Lumpur and Selangor have risen by 37.6% and 19.9% respectively, between 2012 and 2013 (according to Property Market Report 2013 Valuation and Property Services Department).

This rapid increase in market house prices have surpassed the means of the middle income group, especially those living in urban areas.

By expanding the middle-income household bandwidth, Abdul Mutalib says PR1MA would be able to offer home ownership opportunities for a wider segment of the population.

"Besides the public at large, civil servants, including teachers too, will stand to benefit from this expanded bandwidth.

"The salary structure of a government officer (Grade 44) has a gross monthly salary of RM3,600. If combined with their spouse's income, and factoring in annual increments, it would definitely exceed the RM 7,500 threshold.

"Through this increase, not only would it provide an opportunity for this group to own a home, but it would also open avenues for those individuals up to Grade 48 and even Grade 52," he says.

Under the PR1MA end-financing packages with its panel of banks comprising Maybank, MBSB and CIMB Bank, end-financing packages of up to 110% margin of finance from the sale and purchase agreement price will be provided. These financing packages include funding for MRTA/MRTT, legal fees, stamp duties and other loan-related expenses. No deposit is required and all loan-related expenses will be covered. The loan tenure is for up to 35 years or up to age 70, whichever is earlier.

Buyers may choose to either service the interest during construction and commence instalment only upon completion of the property, or another option is to capitalise the progressive interest into the loan amount whilst waiting for completion of the property.

No processing fees will be imposed for the loan. The moratorium is 10 years for outright purchases.

And to help those who are not able to get bank financing even through PR1MA's panel banks, purchasers can opt for a deferred home ownership scheme called Rent-to-Own (RTO).

RTO is a 10-year rental scheme developed to help buyers to eventually own their home.

Participants will initially rent a PR1MA home and eventually purchase the PR1MA home at a pre-determined option price through conventional end-financing when their credit position has improved.

For outright purchasers, they cannot sell the house for ten years, while for those on the RTO scheme, the moratorium is 15 years.
---
Source: The Star Online